SEATTLE GREASE TRAP SERVICES
Grease Trap Pumping & Cleaning
Seattle, Washington
Get Scheduled For A FREE Quote In Minutes Not Hours!
We Will Challenge Any Licensed Competitor's Written Price!
Greetings!  I'm Dave, the grease trap man with a plan….and a few grease guzzling pump trucks!
I'm a happy Seattle resident that makes an honest living cleaning and pumping out grease traps all over the Seattle area.  I've been doing this for over 15 years, so I've "seen it all and done it all" when it comes to servicing grease traps in the Emerald City.
But enough about me, your grease trap needs to be serviced.
Call if you need fast and affordable grease trap services at your establishment for anything involving grease trap cleaning, trap pumping, trap compliances, non-compliances, sizing your unit, inspecting your grease trap system, foul odors, trap plumbing, used fryer oil recycling, regular grease trap servicing, emergency trap pumping……you get the point here.  Our crews can handle any grease trap issue.
We're guilty of excellent customer service, honesty, and having the best prices.  Seattle, King and Pierce Counties, are the areas we can service the fastest.
Call for a free quote or if you have a question, we'd be happy to help you and tell you what we know.  Always trust a professional and reliable technician to service you.
P.S.     
Go Seahawks!!
GET A GUARANTEED CALL BACK
FROM THE OWNER
Grease Interceptor Pumping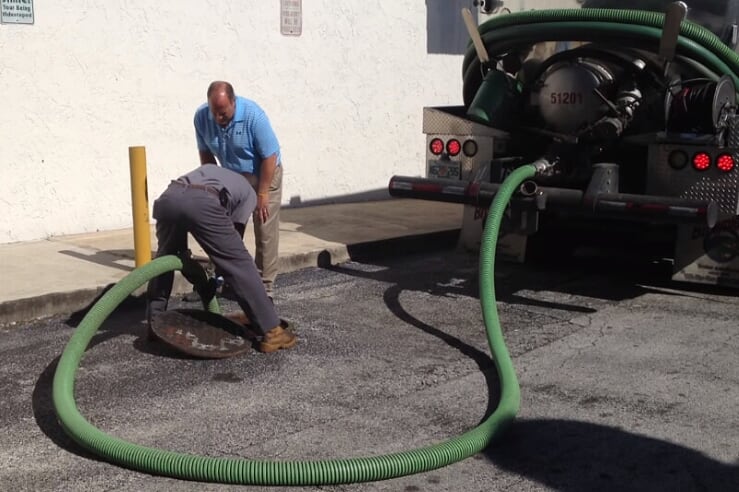 Grease Interceptor Cleaning
Tell us about your grease Trap Service Requirements
Let's look at your grease trap together for the best results
Our full faith quotes are always free & honored for 30 days
Seattle Grease Trap Services
Seattle Grease Trap Services – Let Us Tell You More About Our Business
Our main office is located on Cherry Street in Seattle, Washington. We are proud to serve a wide radius of areas surrounding Seattle including Pike Place Market, Squire Park, Central District, Lower Queen Anne and many more locations around the Seattle area. Our grease trap services include grease trap pumping, grease trap cleaning, grease trap installation, grease interceptor pumping, grease interceptor cleaning, and grease trap repair service.  Seattle Grease Trap & Interceptor Services has been operating in the Emerald City for over 15 years. We provide fast and affordable grease trap services from cleaning to inspections and repairs. We offer the most affordable rates for grease trap services in Seattle and the King and Pierce Counties without compromising quality. Our team never takes shortcuts and every job is carried out in the most efficient way possible. With Seattle grease trap cleaning services, you can continue business as usual while our team works in the background. Our crew is reliable and sticks closely to schedule, so we can be in and out in no time. You can enjoy excellent customer service, honesty, and affordable prices when you work with us.
Benefits of Seattle Grease Trap Cleaning
When it comes to selecting the best grease trap services, there is no shortcut to experience. We at Seattle Grease Trap Services boast more than 15 years serving the area of Seattle and neighboring cities. Our crew has developed a foolproof system to ensure the best service every time. Not only are we experienced in the grease trap disposal, but we are licensed, bonded and insured. We have developed close relationships with grease producers in Seattle, WA which inspires us to continue to serve our amazing city.
Seattle Grease Trap Service Areas
Let's talk about Seattle Grease Trap services in Seattle, WA. These are the main locations that we can provide professional grease trap & Interceptor services in Seattle. Our service locations include:
We also service the following zip codes: 98134, 98144, 98122, 98109.
Here is our physical address in Seattle:
Grease Trap Cleaning in Seattle
Grease Trap Service Seattle and Its Tenets
Don't take your grease traps for granted. When you're choosing your grease traps service provider, it's not always best to find the cheapest company, but that doesn't mean you can't get quality service at a bargain.
We take a serious approach to grease trap pumping because we know that getting improper grease pumping, and maintenance leads to blockages and overflows. That puts your restaurant at risk of having to close down to deal with the problem. It also could mean heavy fines from the health inspector.
Call Us Now : 206-880-7424
By using our grease trap services, you're putting your kitchen in the hands of professionals. You'll have peace of mind knowing that you can rely on one of the most trustworthy and environmentally-responsible companies in the Seattle grease trap services industry.
Reliable staff and complete service records at your service
Our grease trap technicians are trained to service your traps with minimum hassle to you.
We work with all the legal and environmentally-friendly requirements in mind. We also carefully keep the complete service records of each and every job we've done for your business. You can access it at any time you need grease trap service Seattle.
Restaurant Grease Trap Cleaning Seattle and its Importance
We recommend you schedule regular maintenance for the traps at your location, and if you stick to it, you can rest assured that you will be in compliance with all the Washington State regulations.
Restaurant Grease Trap Cleaning Services Seattle promises…
Here's what we promise to do for you with our grease trap service in Seattle:
Our grease trap services won't disturb your business.
We help recycle much of the removed material. It can be used as a soil amendment used for non-edible agricultural products, or in electricity generation as anaerobic digestion to increase methane.
We dispose of the materials that cannot be reused safely at licensed facilities according to the legal requirements.
We help your business stay in compliance with the laws. You don't have to think about the regulations and can focus solely on doing business.
We keep all the records of the grease trap services we have provided. You can access yours at any time you want.
We guide you on how to maintain your grease traps properly and prevent problems in the future.
Installing a grease trap system in your restaurant has reaped many benefits for your business. You know that keeping unwanted materials out of your septic was a good decision. But if you don't maintain your trap system properly, it won't do you any good. The best Grease Trap Service Seattle company is here for you!
Grease Trap Service Seattle and Maintenance
Failure to keep your system maintained could put your business in serious trouble with the law, and your business reputation will be put at risk. Grease traps are effective only when serviced regularly. If you don't know how to maintain it, we have the equipment and staff to do the work for you. So if you are searching for Grease trap cleaning near me Seattle, then give us a call today!
We specialize in restaurant grease traps
Restaurant Grease Trap Cleaning in Seattle…
Running a commercial kitchen is not the same as having a home kitchen. Restaurants serve food to the public and mean much larger duties when it comes to guests, employees, and the public's safety. Fat, oil, and grease can cause damages to the water system, and you can't afford leakages from your kitchen. As a restaurant owner, you have to make sure that you don't let your kitchen violate the laws and let your customers down.
Having a grease trap is good for your business, and it may be even required by law. However, maintaining it is something completely different. If you don't know how to do it yourself properly and effectively, let our trap pumping service help.
Restaurant Grease Trap Cleaning Services Seattle
We can provide prompt grease trap pumping services and ensure your kitchen runs smoothly. Maintaining your grease trap system is essential for the lawful running of your restaurant. Not taking care of it means putting your business at unnecessary risk.
Our pump truck fleet is ready for help at any moment. If you need a prompt and effective grease trap cleaning service now, you can rely on our expert staff. Call us today at 206-880-7424 to schedule an appointment and find a solution to get you out of problems.
5 benefits of working with us
Why should you call Seattle Great Trap Pumping?
We take care of all the paperwork. We complete the required manifest forms and return them to your municipality, city, or county. This is routine for us. You can relax and be confident that everything has been done as per Seattle city and county standards.
Our price plans save you money. We know that one size doesn't fit all. That's why we have different price plans to fit the needs of different customers. You'll get as much service as you need it and pay according to your business needs. They are based on a service agreement schedule to avoid the hassle of working via a month-to-month program.
We appreciate our long-term customers. If you stick with us, we will offer you a discounted price for your restaurant grease trap services.
If you have multiple locations, we will service them all for a discounted price as well.
Our customers speak highly of our licensed and trusted team. They know that we care about their satisfaction.
You can't afford to let your grease trap fill up
Full grease traps may cause you at least three problems:
Horrible Odors – If your grease trap gets full of fat, oil, and grease, it will spread a horrible odor around your kitchen and restaurant. That can destroy your Seattle reputation and seriously damage your business.
Safety Issues – Poorly maintained traps lead to poor indoor air quality. Moreover, they are more likely to cause a fire in your kitchen.
Heavy Fines – Full, unserviced traps can no longer work properly. As a result, they leak into the city water system. It is against the law, and you may get a significant fine.
How the pumping process works
Grease trap pumping requires specialized equipment. You shouldn't take it for granted that kitchen staff members can take care of it on their own. For the sake of your business and your safety, leave it to the experts. Here is how we deal with it:
Measurement – We start by measuring the amount of, oil, and fat that needs to be removed. It helps to prepare better for pumping and also provides important information that we use in creating a reliable grease trap maintenance schedule.
Pumping – Next, it is time to do the work. A technician will place a hose and remove the grease, fat, and oil, and will dispose of it safely. We'll either send it to a repurposing station or dispose of it an environmentally-friendly way.
Cleaning – Finally, our technicians will carefully clean all the grease that has covered the trap edges. When finished, they may test various grease trap components to ensure they work properly. That will decrease the possibility of future problems with your kitchen grease trap.
Call Us
Call 206-880-7424 to get help with your grease trap pumping. We are the professionals for "grease trap cleaning near me" you can call any time. We will come to your kitchen, measure the level of fat, pump it out, and dispose of it safely. Then, we'll make sure that all the parts of your traps work properly and take care of all the paperwork.
Let's start by a free quote. We'll let you know what you get for the price, and you'll be able to make an informed decision about your grease trap cleaning service. There is no risk in calling and talking to us.
GET A GUARANTEED CALL BACK
FROM THE OWNER
Affordable & Reputable Grease Trap Services
Top 5 Things to do in Seattle, Washington
Whether you are a visitor or a resident to Seattle, here are our 5 top things to do in Seattle:
1. Enjoy the Seattle Underground History Tour. This historic tour takes you underground through Seattle's original neighborhood, Pioneer Square. The tour takes one hour during which tourists can walk the underground pathways that were built more than 120 years ago.
2. Visit the Snoqualimie Falls. If you are a nature lover, this is one of the most popular scenic attractions in the area. The winery tour takes you to a family-run winery as well as one of Washington's oldest wineries, the Château Ste. Michelle.
3. Take the 3-hour Seattle City Tour. This premium site-seeing tour provides visitors a complete overview of the city. Enjoy strolling through numerous green spaces, historic neighborhoods and bustling waterfronts in this three hour long tour. Take photos at all of Seattle's top destinations.
4. Go on the Seattle Locks Cruise. This water tour allows you to immerse yourself in Seattle's culture through the water. The tour lasts about 2 hours and takes you along Ballard Locks which is one of the most popular attractions in the city. Enjoy the panoramic background of the Olympic mountain range and the famous Mt. Rainier.
5. Visit the Boeing Factory. A tour of the Boeing factory near Seattle is every Airplane enthusiast's dream come true. Explore the huge assembly plant and see different planes being produced. You can also enjoy the displays in the Aviation Center Gallery.
To visit Seattle Grease Trap Services from Seattle-Tacoma International Airport to 107 Cherry Street #310 Seattle, follow these directions:
1. Get on WA-518 E from Airport Expressway
2. Head southeast on Airport Expressway toward Departures Dr
3. Use the left lane to keep left
4. Keep left
5. Slight left onto Airport Expressway
6. Keep right at the fork, follow signs for WA-518 E/Interstate 5/Interstate 405 and merge onto WA-518 E
7. Drive from I-5 N to Seattle. Take exit 164A from I-5 N
8. Merge onto WA-518 E
9. Use the left lane to take the Interstate 5 N exit toward Seattle
10. Merge onto I-5 N
11. Use the right 2 lanes to take exit 164A for Dearborn St toward James St/Madison St
12. Keep right, follow signs for James St
13. Continue on James St. Drive to Cherry St
14. Use the left 2 lanes to turn left onto James St
15. Continue straight to stay on James St
16. Turn right onto Yesler Way
17. Turn right at the 1st cross street onto 1st Ave
18. Turn right before Cherry Street Coffee House
19. Destination will be on the right
For specific services on Seattle Grease Trap Services, click the appropriate link: